We proudly offer several awards that recognize musical and teaching excellence.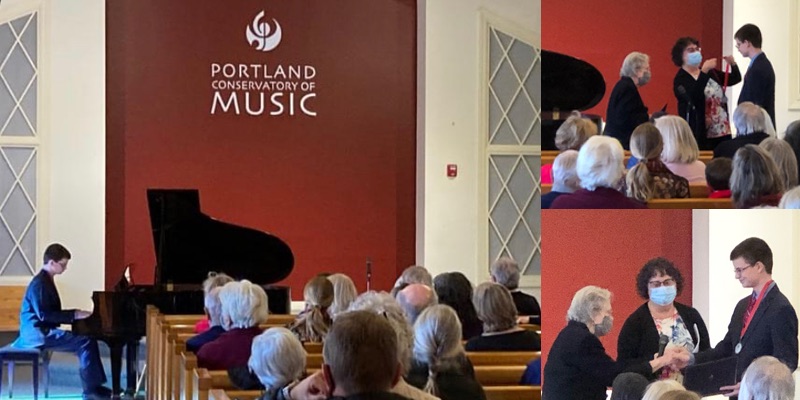 The Ocy L. Downs Piano Prize Competition awarded Logan Peters first prize at the competition on March 19th, 2022. 
Winners receive a cash prize and are given the opportunity to perform in a winners recital and at the Portland Rossini Club.
Ocy Downs Piano Competition
2022
Logan Peters, First Place
Anthony Ayer, Second Place
2020
Michael Bostock, First Place
Quentin Wu, Second Place
2018
Morgan Flanigan, First Place
Alice Hauser, Romantic Period Prize
2016
Josie DePhilippo, Division II  (grades 10-12)
Alice Hauser, Division I (grades 7-9)
Frank Glazer Medal for Piano Performance
2021 Michael Bostock
2018 Alice Hauser
2016 Josie DiPhilippo
Ruth Glazer Scholarship Award
2014 Marcos Edgar
Carol Eaton Elowe Faculty Award
2022, Rachel Herzer, Piano
2018/19, Maria Belva, Choral Director
2015, Chiharu Naruse, Suzuki & Traditional Piano
2014, Deirdre Oehrtmann, Suzuki & Traditional Violin
2013, Naydene Bowder, Piano
2012 Carol Eaton Elowe, Piano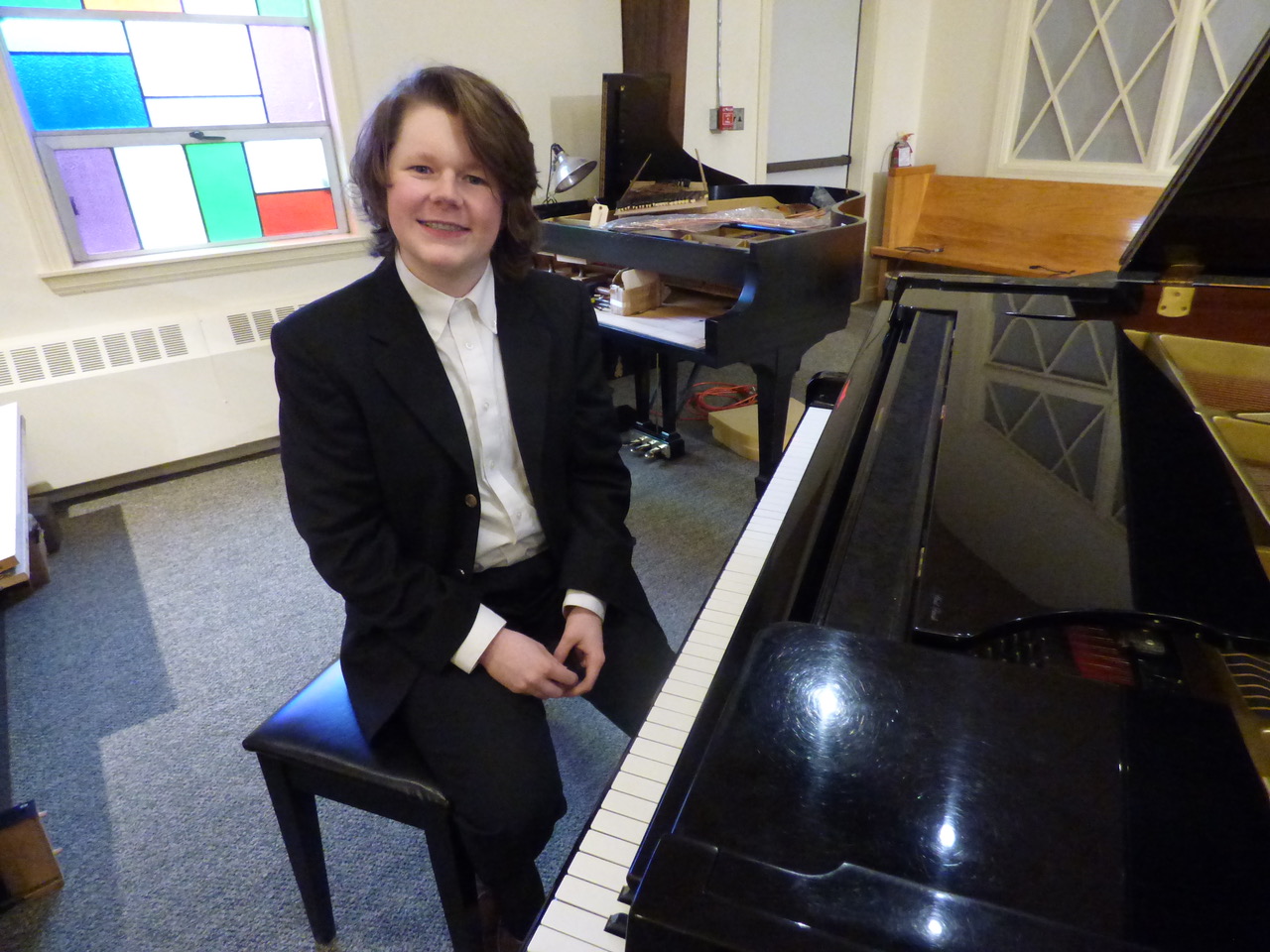 Check out 2022 Ocy Downs winner Logan Peters performing in PCM's Noonday Concert Series along with the Ladies of Note! Congrats, Logan!!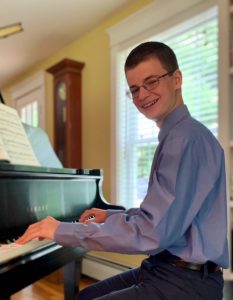 On Nov. 4, 2021 Michael was awarded the Frank Glazer Medal for Piano Performance. Michael performed for the Noonday Concert Series where the award was announced.
Quentin Wu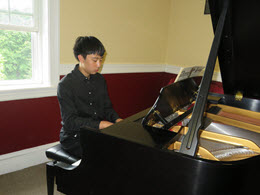 Quentin Wu, an upcoming junior at Scarborough High School, is currently studying piano with Naydene Bowder at the Portland Conservatory of Music. He has been practicing piano and violin for 10 and 7 years respectively.
Morgan Flanigan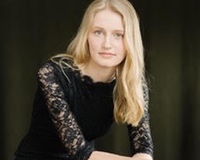 Morgan is currently a piano performance major at the Cleveland Institute of Music in Ohio, studying under the tutelage of Kathryn Brown.  Previously, Morgan studied with Chiharu Naruse at PCM for eight years.  She won the 2018 Ocy Downs Piano Prize, 2017 Young Stars of Maine Elsie Bixler Junior Prize, 2016 Maine High School Concerto Competition, 2015 Young Stars of Maine A. H. Chatfield, Jr. Piano Prize, and the 2015 USM Youth Ensembles Scholarship Competition. During the 2016-2017 school year, Morgan participated in the piano seminar at the New England Conservatory Preparatory School.  She participated in the 2017 Atlantic Music Festival, and during the summer of 2015, Morgan studied under Yong Hi Moon at the Bowdoin International Music Festival and attended the MasterWorks Festival in Indiana.
Alice Hauser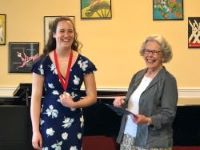 Alice attended Kennebunk High School where she was a member of the National Honor Society and Tri-M Music Honor Society. She was also president of the Student Senate, Mock Trial lead attorney. Alice is a National Merit Finalist, a US Presidential Scholar Semi-Finalist, and an AP Scholar with Distinction. She attended the All-State Choral Festival all four years of high school. She was accepted into the Royal Conservatoire of Scotland's summer piano program and was awarded the Jean and Harvey Picker Senior Prize from the Bay Chamber Concerts and Music School as part of their 2018 Young Stars of Maine competition. She studied piano at the Portland Conservatory of Music with Naydene Bowder and won the Conservatory's Ocy Downs Piano Competitions in 2018 and 2016, Romantic Period Prize and Division I (grades 7-9), respectively. In 2018 she won the Conservatory's Frank Glazer Medal for Piano Performance. Alice will be attending Wake Forest University as a Stamps Scholar.
Josie DiPhilippo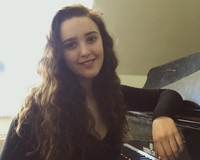 Josie is majoring in Piano Performance at the University of Southern Maine. She is currently studying with Dr. Laura Kargul and previously studied with Naydene Bowder at the Portland Conservatory of Music. She has participated in master classes with Conrad Tao, Tamara Poddubnaya, Henry Kramer, Charles Floyd, and Daniel Shapiro. Josie is an intern with the Portland Symphony Orchestra and is working to coordinate and present programs for all ages. Honors include First Prize in the Ocy Downs Competition, First Prize in the Pine Tree Piano Competition, Winner of the USM Youth Ensemble Scholarship Competition, Second Prize in the Young Artist Piano Competition (MA), recipient of the Frank Glazer Award and recipient of the Kotzschmar Memorial Trust Scholarship.
Faculty Award Recipients
Maria Belva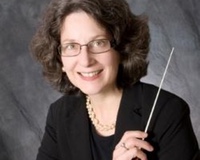 Maria Belva is a professional choral conductor and private voice teacher. She has a B.A. in Psychology & Education from the State University of New York at Potsdam and an M.M. in Choral Conducting from the University of Maine.
She is a Certified McClosky Voice Technician, and in her voice studio, she focuses on technique and musicianship. Maria was an active soprano soloist throughout the Monadnock Region of New Hampshire, and in this capacity, performed leading roles in operatic and music theatre productions. She also appeared often in churches, community events, benefits, and solo recitals.
Maria is a life-long chorister and understands first-hand the impact of creating an excellent choral experience. In Peterborough, NH, she founded and for 20 years directed the Grand Monadnock Youth Choirs for singers in grades 2- 12. Maria directed PCM's Girl Singers of Maine for several years.
Chiharu Naruse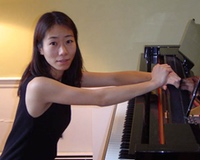 Chiharu Naruse holds a Masters Degree in Music Performance and a Masters Degree in Music Instruction from the Hochschule für Musik Hanns Eisler in Berlin, Germany. In Berlin, she studied piano under Klaus Bäßler and Lied Accompaniment under Wolfram Riegar.
Chiharu has performed throughout the world in recitals and piano competitions, including a piano concert to benefit Amnesty International in Germany, the Hyogo Piano Competition in Japan (silver prize), the Clara Haskil piano competition in Switzerland, the Pescara Academie Piano Competition in Italy, and the International Mozart Wettbewerb in Salzburg Austria.
In the spring of 2002, she moved to the United States to study under Frank Glazer. Since her arrival, Naruse has given several recitals at Bates College and Bowdoin College.  She has also collaborated with the Portland String Quartet, the DaPonte String Quartet and Frank Glazer.
Our Awards and Competition
Ocy L. Downs Biennial Piano Prize Competition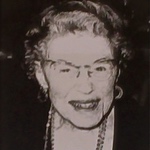 First awarded in 1999, this piano prize was established to honor Maine pianist and teacher, Ocy L. Downs, who, from 1927 until 1998, generously shared her time and talent with close to a thousand fortunate piano students and other young musicians.
Frank Glazer Medal for Piano Performance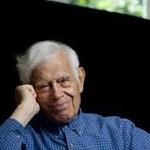 With the first award presented in 2015, this award is given annually to an outstanding PCM piano student in honor of concert pianist Frank Glazer (1915-2015).  He studied with Artur Schnabel and Arnold Schoenberg, and taught at the Eastman School or Music and later Bates College. Learn more about this remarkable pianist in this
short biography of Mr. Glazer.
Carol Eaton Elowe Faculty Award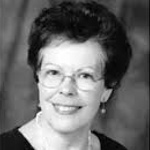 This award was established at the Portland Conservatory of Music in 2012, and provides a $500 prize to a Portland Conservatory of Music Faculty member who exemplifies Carol Eaton Elowe's qualities of superior dedication to the mission of the school. One of the founders of the PCM in 1995, she provided critical leadership and service to the school in its formative years. 
Ruth Glazer Scholarship Award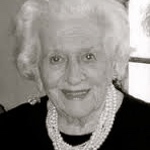 Open to all PCM students, the recipient of this award must exemplify the highest standards of musical excellence, as well as exceptional character and a capacity for leadership, following the fine example that Ruth Glazer set for us all. This annual award was established in memory of Ruth Glazer, a musician, teacher, arts administrator, and the founder of PCM's Noonday Concerts.